"The premier source for the best, most qualified, and progressive purchasing and supply management professionals in the Gulf South"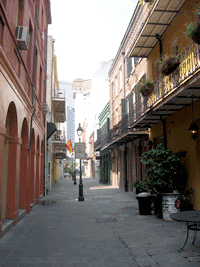 The Institute for Supply Management Greater New Orleans, Inc. is a professional organization comprised of purchasing, materials, and supply management personnel. ISM-GNO has been serving Southeast Louisiana and the Gulf Coast since 1924. For its superior programs and service to its members, ISM-GNO was given an Affiliate Excellence Award by ISM in 2002 and 2003.
ISM-GNO exists to provide its members with professional and personal development in essential attitudes, skills, and knowledge that is needed to excel in the field of purchasing and supply management. ISM-GNO educates its members on current and emerging techniques, processes, and practices needed for continued success and profitability.
When you join ISM-GNO as a regular member, you automatically become a member of the Institute for Supply Management–ISM. Membership in ISM opens lines of communication to 48,000 other purchasing and materials management professionals in the business, government, and academic sectors. ISM's annual regional and international conferences give you the opportunity to keep abreast of the latest technology, processes, and upcoming trends.
Being certified by ISM, whether it's a CPSM® or CPSD™, is one of the most important decisions you will make. Those four letters after your name carry a lot of weight in the global supply management field because they are backed by ISM's reputation and more than 100 years of credibility.
With approximately 150 members in the Greater New Orleans affiliate, ISM-GNO offers its members an excellent opportunity for networking and education. As a member of ISM-GNO, you will receive many benefits and services.
Professional growth through a network.
Affiliate meetings and programs featuring exciting speakers with timely and cutting edge topics each month.
Members' discount on CPSM and CPSD classes and ISM certification review workshops.
The opportunity for personal and professional growth by becoming a member of the ISM-GNO affiliate management team.
Access to the career resources where you can review and apply to various job opportunities.
Scholarship opportunities
Opportunity to acquire new skills in planning, managing, and organizing while developing your leadership potential by volunteering as a committee member.
For more information about membership, please visit our Membership Information page.
ISM-GNO's meetings are educational dinner meetings typically held the third week of every month, featuring experienced and knowledgeable guest speakers. Locations vary to accommodate the diverse locations of our members. Please visit our Upcoming Events page for more information on these monthly meetings.